All the qualified divers who finished their diving study on levels lower than DIVEMASTER, but haven't been practicing long, can start diving again only after a Refresh-dive course. Refresh-dive or check-dive allows certified divers to confidently practice independent diving even after a long break (6 months and more) and making their diving comfortable and safe.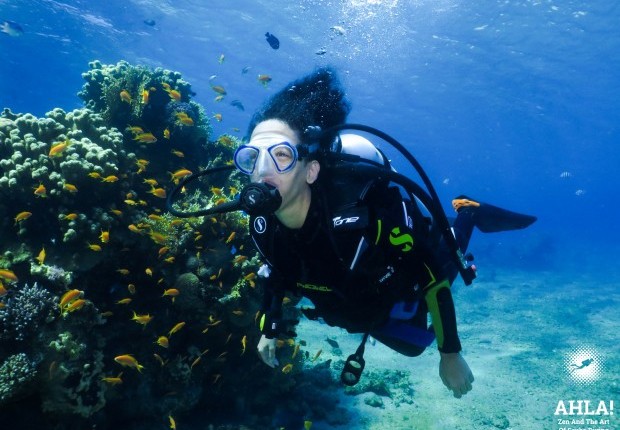 What is this additional course for?
The laws of many developed countries including Israel forbid independent scuba diving for those who haven't been practicing diving for the last six months in any part of the world. The proof to complete this requirement is a record in a diver's logbook, otherwise dives do not count.
Our diving club in Eilat welcomes everybody with admission to take part in group and paired diving, rent professional diving equipment and take Refresh-dive course if there is a necessity. Refresh Dive let's you not only abide the laws of the country but also update your theoretical and practical knowledge to make your every dive safe and comfortable.
Training program
Scuba skills update (one more name for Check-dive) presupposes a review of some of the theoretical lections that all the experienced divers already learned in the OPEN WATER DIVER course. After this all the participants attend a short briefing before diving that includes a review of the basic laws and rules of diving and go diving with an instructor for 12 meters. Those, who are able to complete all the tasks correctly (clean the mask from water, take the mask off, find regulator, take the weights off on the surface, breathe simultaneously with a partner, etc.) will receive permission for independent diving with a partner without an instructor (individual diving is forbidden by the law of Israel).
Don't think that these types of courses are a waste of time. At the time of the course you will get a lot of joy and pleasure from talking to your soul mates than from ordinary underwater swimming. What is more your every next dive will be more confident, safe and comfortable.
How to get a confirmation?
After you have finished the course an instructor puts a stamp in your logbook that allows you to do independent diving in any country of the world for the next 6 months. If the diver will be able to do any of the given examine exercises an instructor can register a certification of the given course. We have to note that certification rejection is a very uncommon thing and you don't have to be afraid of it.
Price of refresh/check dive with AHLA DIVE Instructor - 200 ₪ per person.
Price include full set of diving equipment + weitsuit + 12L Air tank + transfer to dive site.
Price not include diving insurance